Keynote Speaker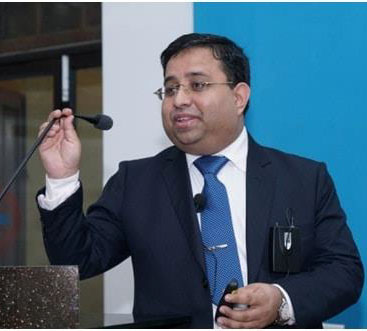 Prof. Md. Mamun Habib, PhD, FCILT, SMIEEE
School of Business, Independent University, Bangladesh; Visiting Scientist, University of Texas - Arlington (UTA), USA
---
Speech Title: Digitalization of Supply Chain Management: An Innovative Management
Abstract: This paper represents theory and evolution of Supply Chain Management (SCM), as the least innovations in Research, as well as highlights chronological prospective of SCM in terms of time frame in different areas of manufacturing and service industries. The objective of SCM is to incorporate activities across and within organizations for providing the customer/stakeholders value. SCM has been widely researched in numerous application domains during the last decade. Despite the popularity of SCM research and applications, considerable confusion remains as to its meaning.
There are several attempts made by researchers and practitioners to appropriately define SCM. Amidst fierce competition in all industries, SCM has gradually been embraced as a proven managerial approach to achieving sustainable profits and growth. This keynote would illustrate SCM from the raw material materials to finished products, i.e., suppliers to consumer at the various industries. This keynote speech would demonstrate educational supply chain model (ITESCM – Integrated Tertiary Educational Supply Chain Management) as an example of a service industry. Due to application of AI, Automation, Blockchain, Bigdata, etc., this keynote speech demonstrates digital SCM, eventually sustainable SCM for the betterment of the society.
Biography: Prof. Dr. Md. Mamun Habib is a Professor at the School of Business & Entrepreneurship (SBE), Independent University, Bangladesh (IUB). Dr. Habib is the Visiting Scientist at the Dept. of Industrial Engineering of University of Texas – Arlington, USA. He is also the Visiting Professor at Unirazak, Malaysia and UCSI, Malaysia, PUP, Philippines. At present, he is supervising twelve (12) Ph.D. scholars locally and internationally and earlier five (5) Ph.D. scholars have been graduated.
As a Ph.D examiner, he has several Ph.D. involvements with UUM, UNIRAZAK, AIMST, UNITAR, Asia e University (AeU), Malaysia; Assumption University of Thailand; Institute for Technology and Management (ITM) – University and Birla Institute of Technology (BIT)–Deemed University, India, National Institute of Technology (NIT), India, SOA University, India; University of the Assumption, Philippines, Aligarh Muslim University, India; Chitkara University, India; Universiti Selangor (UNISEL) Shah Alam, Malaysia; Universiti Putra Malaysia, Malaysia.
He has about 21 years' experience in the field of teaching, training, workshop, consultancy and research.
Dr. Habib published about 185+ research papers, including Conference Proceedings, Journal articles, and book chapters/books. Among them, more than 70 articles are WoS and Scopus Indexed. He is the Editor-in-Chief in International Journal of Supply Chain Management (IJSCM), London, UK. He serves as the Editor-in-Chief/Lead Guest Editor/Editor/Editorial Board Member/Reviewer of more than 50 journals, particularly Elsevier (Scopus) and Thomson Reuters (Web of Science) Indexed Journals.
He delivers Keynote Speech at 80+ international conferences at various countries, particularly USA, UK, Taiwan, China, Indonesia, Malaysia, Thailand, Singapore, Turkey, Korea, India, Philippines, Greece, Bulgaria, Australia, Italy, Nigeria etc. He conducted 170+ Webinar/Workshops/ Seminars locally and internationally. He is involved in a few grant research projects in the USA, Malaysia, Thailand, Bulgaria, European Union, India, and Bangladesh.
Earlier he was Associate Professor at BRAC Business School, BRAC University, Bangladesh; Asia Graduate School of Business (AGSB), UNITAR International University, Malaysia; Dept. of Operations Research/Decision Sciences, Universiti Utara Malaysia (UUM), Malaysia and Dept. of Operations Management, American International University-Bangladesh (AIUB).
He accomplished his Ph.D. and M.S. with outstanding performance in Computer & Engineering Management (CEM) under the Graduate School of Business (GSB) from Assumption University, Thailand. His Ph.D. research was in the field of Supply Chain Management.
His core research areas are supply chain management, production & operations management, operations research, research methodology, engineering management, technology management, and educational management.
Prof. Habib is an active member of different professional organizations, including IEEE (Senior Member); Chartered Fellow (FCILT), CILT International, UK; IEOM (President, SCM Technical Division); BSPUA (V.P, R & I); IETI (Senior Member and Board of Director); IRED (Fellow); GRDS (Vice-President) just to name a few.
He also serves as General Chair, Program Chair, Technical Chair, Organizing Committee Member, Technical Committee Member, Track Chair, Session Chair as well as Reviewer of numerous international conferences.
Finally, He is involved with QS World University Ranking/Times Higher Education Ranking as an academician.